Welcome at the Sweet Summer Acro Festival 2022!
The Sweet Summer Acro Festival is a small and cosy acro festival close to Berlin. It used to take place at a beautiful location in the woods of Brandenburg, directly at the Spree and had to take a pause in 2020&2021.
We were forced to look for a new location and we're happy to have found something that can compete with the previous location and even surpasses it. The Neue Spitzmühle is located around 1 hour from Berlin and has direct access to the Bötzsee. We have the option of indoor and outdoor training. Accomodation happens in rooms with twin beds. The big highlight is the delicious vegan and vegetarian food provided by our cook Andreas. To top that, we have a sauna for the evenings.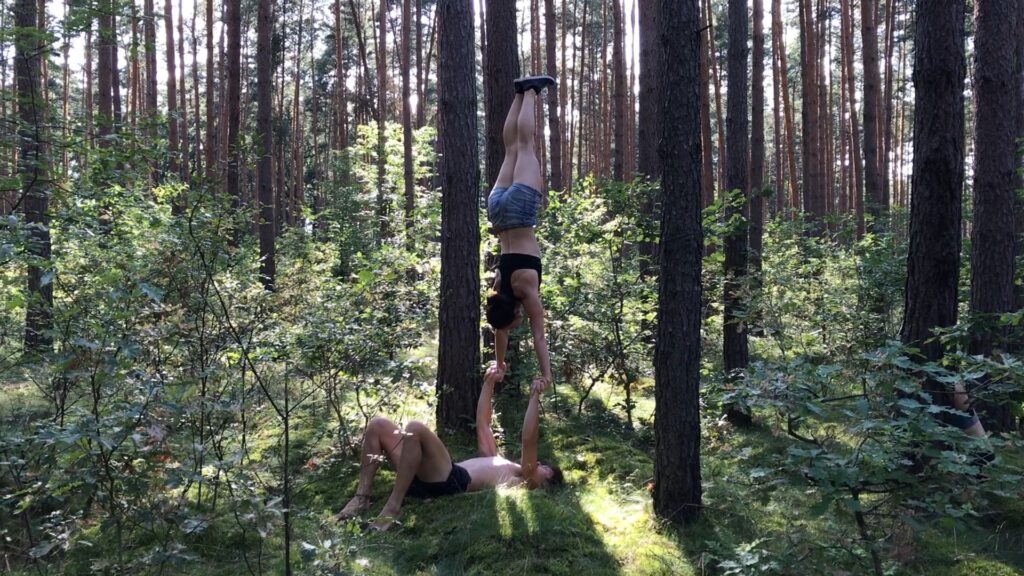 What you can expect?
several acro workhops to choose from per day
Different levels mostly intermediate to advanced (no lunge)
Delicious vegetarian & vegan food (3 meals per day)
games, bonfires, sauna, swimming
Lots of fun and relaxation
Price:
| | | | |
| --- | --- | --- | --- |
| Single room | Double bed or 4 bed room | Camping or own van | |
| 500€ | 450€ | 420€ | regular price |
| 460€ | 410€ | 380€ | Early bird (extended until 20.03.) |
About the Sweet Summer Acro Festival:
WORKSHOPS:
There will be three workshops per day to different topics (acroyoga, icarian, trios, standing acro, etc.). Depending on the amount of participants signing up, there will be two parallel workshops to select from. A detailed workshop schedule will be published on the day of arrival. The workshop plan will be shaped according to your wishes, which you can let us know in the registration form. There is no lunges, but our teachers are very experienced to bring you slowly and safe to more advanced tricks.

LEVEL AND PREREQUISITES:
This is an open level event, prerequisites are recommended though. Most workshops will be directed towards intermediate and advanced students.

ACCOMODATION:
The Neue Spitzmühle has double rooms with two separate beds which can be moved. Each room includes their own shower and bathroom. The rooms have cushins and blankets, please bring your own bedsheets though or rent them for 10€. Staying in the own van and camping is possible, but is limited. 
FOOD:
We do have a wonderful cook who prepares delicious meals (vegan and vegetarian) with loads of variety. If you have any allergies let us know! There is no shops close by. If you want to bring something for your own, there's a small fridge. For the evenings there will be drinks for purchase. The kitchen of the Neue Spitzmühle doesn't allow the preparation of meat, please respect this wish.

HOW TO GET THERE:
The most comfortable way from Berlin is a combination between bike and S-Bahn. Take the S-Bahn to Hegermühle and continue with a beatiful and easy 25 min bike ride. There is a wonderful cycle way through the woods with little car traffic. There is no shuttle service provided, so please organise yourselves.

FAMILIES:
The event will rather be small and is family friendly. It's possible to bring the whole family, but unless there are more than a certain amount of children there won't be special child care or family acroyoga workshops. So please make sure you're responsible for your own children, if you bring them.